By Stephen Wilson
For some students, January might be a break between terms, but for nearly 300 Lafayette students it became a career-defining moment as they shadowed alumni and parents in a range of industries and work environments across the region and country.
Organized by Gateway Career Center, January externships are two- to five-day career exploration opportunities that give students a chance to try on a career.
"Students are immersed in daily activities," says Melissa Schultz, senior associate director of Gateway Career Center, who coordinates the program. "Our hosts support these students by answering their questions and providing an inside look into a particular field. It truly helps students evaluate whether or not a certain career holds a potential future for them."
From Massachusetts to Georgia, Ohio to California, Leopard alumni, parents, and friends of the College rolled out the red carpet. Here is a glimpse inside a few of the locations.
Novità Communications
A public relations and marketing company targeted to fit the needs of the domestic and international architecture/design community.
Manhattan, N.Y.
Hosts: Danielle McWilliams '04, senior vice president along with Christine Abbate '85, principal; Abby Perham '16, account executive; and Bianca Buecklers '19, junior account executive
Extern: Iyana Eubanks '21
Activities: Externs sit in on client calls, in-person client and internal team meetings, and, in some cases, client events and/or trade shows. In addition, externs contribute to account work, such as drafting pitches, setting up email blasts, conducting research, and writing press releases.
Soundbites:
"We endeavor to make sure that what the externs are doing is meaningful and of value to us and to them," says McWilliams. "I am personally extremely thankful for the externship program as it helped me to meet my boss and mentor, Christine Abbate. She hosted me as an extern in 2002 at Novità, and we have worked together (from externship to internship to full-time career) ever since."
"This experience was incredibly hands on and has helped me have a clearer idea of what I want to do with my future," says Eubanks. "I love that so many of the employees were Lafayette alums. It was a great time!"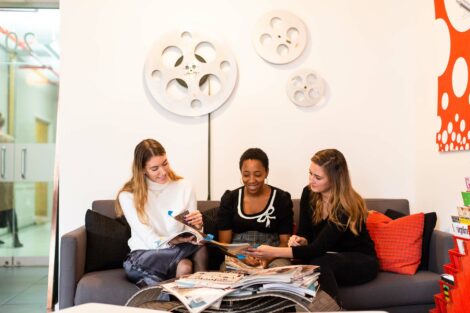 New York State Supreme Court
A trial court where each of the five NYC counties is a separate judicial district, divided into civil and criminal term.
Bronx, N.Y.
Host: Honorable Robert Johnson P'20, Bronx Supreme Court, Civil Term
Externs: Mallory Brown '22 and Melissa Niles '21
Activities: They discussed law, law school, Judge Johnson's career path, and prepared for cases on the calendar by reading motions and opposition papers, observing hearings and case arguments.
Soundbites:
"Seeking parents to host students in this program is a brilliant idea," says Johnson. "I have always believed in sharing in order to advance young people's education and careers. Earlier exposure will make young people better law students and, ultimately, we'll gain a better crop of lawyers."
"This experience taught me a great deal about the process and function of the judicial system both in and out of the courtroom," says Brown. "Most judicial experiences, like this one, are reserved for law students, so to be able to see and experience the court as I did is amazing as an undergraduate."
"This externship experience has ignited my passion for the legal field because it is so versatile," says Niles. "As I apply to law school, I have gained mentorship because of this program."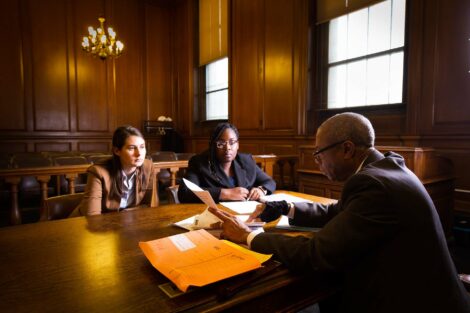 Langan Engineering
A company that provides an integrated mix of engineering and environmental services in support of land development projects, corporate real estate portfolios, and the energy industry.
Lawrenceville, N.J., Parsippany, N.J., and Doylestown, Pa.
Hosts: Andrew Chun '12, project scientist, and Emily Clark '12, project engineer, along with 21 other alumni (and one current intern) scattered across 36 offices
Externs: Maura DiGuglielmo '21 and Liszeth Rodriguez-Meza '21
Activities: Externs toured various offices and met with several teams including environmental, geotechnical, site, civil, traffic, and geospatial. Each team showcased how a client's challenge was met with a comprehensive solution that drew on collaboration across disciplines.
Soundbites:
"As someone with a Bachelor of Arts, I enjoy hosting this experience—fifth year doing it—to show how the practical skills learned at Lafayette can be applied to a variety of career paths," says Chun. "It also allows us to get to know these young professionals in a better setting than a typical interview process as we have hired several previous externs as summer interns—including Maura for summer 2020—and hope to continue developing the next generation of talent!"
"As a civil engineering major, I may specialize in a specific discipline, but any given project will undoubtedly involve different disciplines within civil engineering or even a completely different profession," says Rodriguez-Meza. "It is very interesting to see how different people think to solve one engineering problem and how those different perspectives make a great team."
"There are people with the title 'geologist' or 'environmental scientist' using their degrees and working at a firm that values collaborating with architects and engineers," says DiGuglielmo. "This is something I could pursue after my time at Lafayette."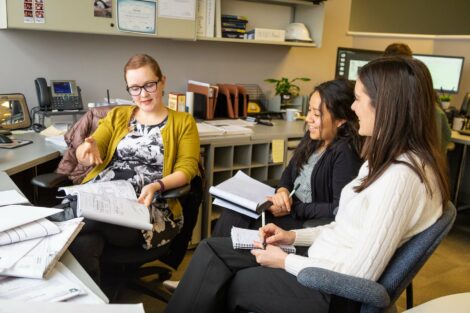 Olympus
A global medical technology leader, passionate about the life sciences, industrial solutions, cameras, and audio products that make people's lives healthier, safer, and more fulfilling.
Bethlehem, Pa.
Host: Krista Ortwein '05, senior manager, community affairs, along with seven other alumni
Extern: Clarissa Faustin '21
Activities: The extern shadowed the community affairs role to see how Olympus strives to be "True to Community" by understanding how a socially responsible company integrates community affairs work into its culture and gives back to the communities where its employees live and work. The days included one-on-ones with representatives from different departments to gain an understanding of how business units work together successfully.
Soundbites:
"As an alumna, I host externships to give back to students studying at Lafayette and offer real-life experience for those early into the explorations of a career path," says Ortwein. "For Olympus, hosting students offers fresh perspective. As our CEO and president states, 'Developing the next generation of talent is an integral part of our ongoing commitment to cultivating a workplace that embraces diverse perspectives.'"
"It was especially impactful for me because I got to make great connections with professionals during my time there," says Faustin. "While Olympus does specialize in medical tech, you don't necessarily need to be going into the medical field to carve out a path for yourself there. I also learned that having a corporate job doesn't mean you have to adhere to the corporate stereotype—workers at Olympus are able to make their schedules work for them, and collaboration seems to be the norm rather than the exception. I enjoy contributing to meetings and having my ideas be heard."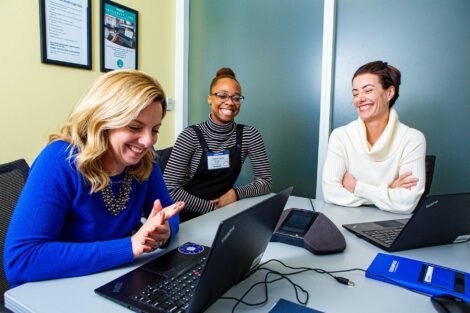 Nuance Communications
A company that specializes in speech-enabled human computer interactions (HCI) and works as the leading integrator of these solutions for the largest companies in the world.
Mahwah, N.J.
Host: Kyle Kotch '09, manager, professional services, along with nine other alumni
Externs: Basit Balogun '21, Cameron Downey '22, and Mei Ting Leong '21
Activities: Externs shadowed several people on customer-facing calls and met with alumni from each of the roles that support the software development lifecycle, including software engineering, UX design, quality assurance, speech and data science, and project management. Additionally, they got to interact with the latest and greatest tool sets from R&D and meet senior leaders in various software engineering roles.
Soundbites:
"It's a win-win for everyone," says Kotch. "As a company, we benefit greatly from these interactions by learning their perspectives, understanding what the next hiring candidates are looking for, getting generalized exposure, grooming for internship applications which often come after an externship, and, hopefully, leading to full-time hires postgraduation."
"I learned about the challenges they faced with their customers," says Balogun. "A lot of companies are trying to follow agile methodologies and do not realize the cost implications, which can lead to a considerable amount of disparities. I realized that I want to work for a company that stresses and enforces collaboration and strong employee relationships."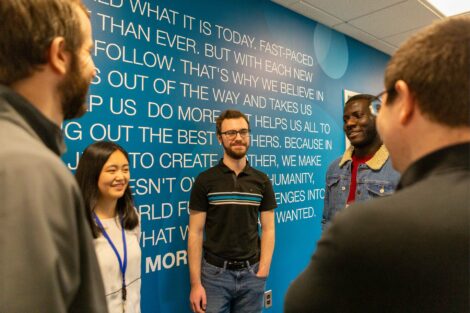 SEARCH Learning Group
A comprehensive applied behavior analytic program based on a collaborative effort between clinical staff and families.
Warren, N.J.
Host: Jessie Dello Russo '14, director
Extern: Isabella Stoto '22
Activities: All externs observe the full-time instructor/data analysts who work directly with learners with autism.
Soundbites:
"I host students because it was during my externship my sophomore year that I learned about ABA," says Dello Russo. "It is a passion of mine to mentor students and give back to the Lafayette community. I recently started an internship program at SEARCH to help students determine potential next steps in their careers and give guidance on the process."
"I witnessed how teachers used ABA techniques to reinforce desired behavior and observed how ABA can help autistic children overcome certain obstacles and achieve their goals," says Stoto. "It inspired me to learn more about ABA and pursue a career that involves working with children who have autism."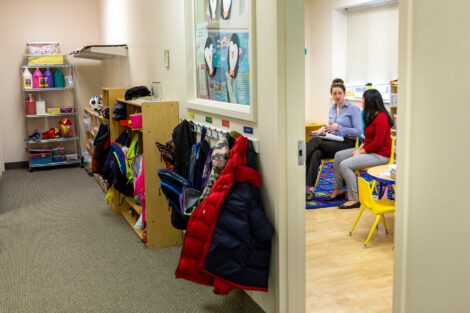 Summit Medical Group
The largest, private multispecialty medical group in New Jersey, with a 42-acre flagship health care campus and more than 70 satellite offices across five counties.
Berkeley Heights, N.J.
Host: Whitney Gaydos '96, lead physician assistant, along with seven other alumni
Externs: Brinton Coombs '20, Grace Donato '22, and Isaiah Osei-Gyening '22
Activities: Externs shadow physician assistants (PA) and other health care team members in various departments and settings, observing hospital rounds, admissions and discharges, office visits, procedural exams like stress tests, interactions across coordinated care teams. Externs also attend daily lectures with staff and witness live cardiac surgery from Liberty Science Center's amphitheater.
Soundbites:
"It is extremely rewarding to give back to the College by sharing my professional journey with the students," says Gaydos. "They are given the unique gift of an inside look into the health care world to help them realize where they might fit into the team as a potential future provider."
"I am planning to apply to PA school in a year, so this experience reassured me in that decision as I shadowed PAs in different fields and in different environments," says Coombs. "It was helpful to learn what a good PA applicant should look like. Now, I can be thinking more about my application and personal essay well in advance of applying."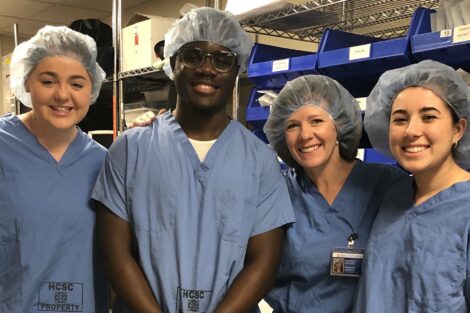 (Original article URL: https://news.lafayette.edu/2020/02/10/the-extern-files-2/)