By Stephen Wilson
In a virtual environment, exploring careers in distant cities has never been easier.
That's what 260 students did, thanks to 47 employer hosts. Over the course of December and January, participants learned about media and communications in New York City; life science and finance in Boston and New York City; government, communications, and research in Washington D.C.; and technology and innovation in New York City, Boston, and the West Coast.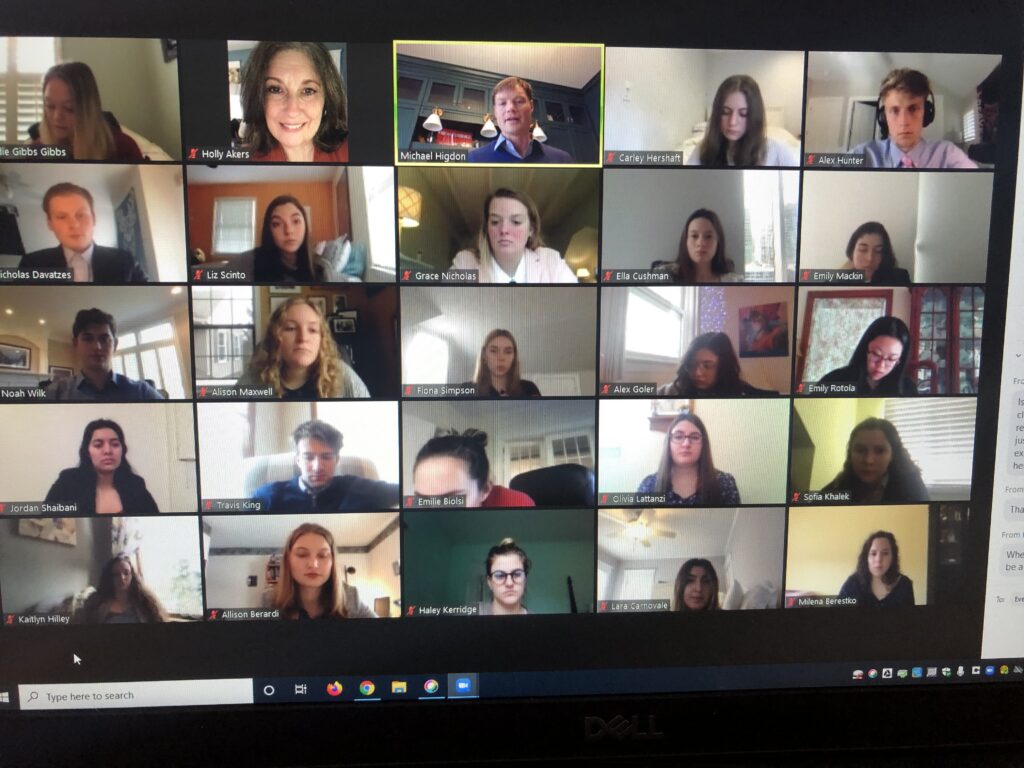 "The virtual nature of Career Tracks this year opened doors that regulations and restrictions can often keep closed when the program operates physically," says Mike Summers, associate vice president of Gateway Career Center. "This afforded us opportunities that were broader and more distinct."
This valuable behind-the-scenes look at specific industries helped students better understand their futures and build connections with alumni, parents, and friends of the College.
"I have found our hosts to be incredibly open about sharing their career experience as well as giving great advice around interviewing, individual educational investment, and work etiquette," says Holly Akers, associate director of employer relations and outreach at Gateway Career Center.
"The virtual environment allowed us to invite alumni and hosts from across the country and globe to participate," says Josh Walker, associate director of employer relations and outreach at Gateway Career Center. "Based on the feedback from students, the impact this global perspective had on them was profound."
Here are some highlights.
Finance
Tracks in New York City and Boston focused on a range of topics including bulge bracket, boutique banks, private banks, financial consultants, and wealth managers. Students had the opportunity to hear from successful alumni about what their career and daily work experience looks like. Students were introduced to industry organizations as trusted resources related to industry trends, continuing education, and career development beyond the classroom.
Host organizations included Aragain Capital Management, Bank of America, Brown Brothers Harriman, Cambridge Associates, Citigroup, Credit Suisse, Goldman Sachs, Modera Wealth Management, Morgan Stanley, and State Street Bank.
Host leaders included a number of alumni at various stages of their careers:
Aragain Capital Management–Era Fuchik '06
Bank of America–John Tully '07
Brown Brothers Harriman–John Santos '87
Cambridge Associates–Noel O'Neill P'16/'21
Citigroup NY–Robert Goldstein '80
Citigroup Boston–John Murray '84
Credit Suisse–Xiao Cui '13
Goldman Sachs–Greg Turoto P' 23
Modera Wealth Management–George Padula P'19 and Kelly Henning '09
Morgan Stanley–Sebastian Crapanzo '97
Morgan Stanley Wealth Management–Mark Suffredini '93
State Street Bank–Eric Teschemacaher '11
Highlights
Mark Suffredini '93, executive director, branch manager, Morgan Stanley Wealth Management
"Lafayette's true differentiator is the alumni network and their willingness to help out another Pard. I hadn't participated in Career Tracks in the past because I live in Los Angeles, so having it virtual was great. One of Morgan Stanley's core values is 'giving back.' It's nice to work for a firm that encourages their employees to do so. Career Tracks is a terrific value-add for students, providing an opportunity to hear from successful alumni and parents who can offer an authentic lens into a career path they may have an interest in pursuing. Having the opportunity to connect and ask questions that they may not feel comfortable asking in an interview is a definite advantage of participating."
John Tully '07, director, Equities Advisory Sales, Bank of America Securities
"Career Tracks have been a pivotal aspect to Bank of America's recruiting program. As an alumni, I take great pride in facilitating Lafayette alumnus from across various business units inside the organization to participate in this now annual event. We have taken the opportunity to present career paths for traditional sales and trading/investment banking, as well as for wealth management careers under the Merrill/Bank of America private bank division. I feel that my career success is a result of my time at Lafayette College, and I am happy to help my fellow Pards with their career development and aspirations."
Sebastian Crapanzano '97, head of institutional sales and trading counterparty risk, Morgan Stanley
"I have had the great pleasure of being part of Lafayette Career Tracks since its inception. It has been an incredible experience, and I've watched the program grow in importance and relevance to Lafayette students. Additional alumni and I have always appreciated the opportunity to present Morgan Stanley as a possible career path for students. Career Tracks has consistently brought about positive connections with students, making for lasting impressions and many successful hires over the years."
Media and Communications
Topics in the New York City communications track included a range of enterprises from print and digital media, television, and brand management, as well as media advertising sales. This track was comprehensive of the media and communications industry within NYC, covering production, animation, broadcasting, digital media, and media agency.
Some companies included Fox Sports, The Rachael Ray Show, Forbes, Alkemy-X, and Buchwald & Associates.
Host leaders included Emmy Award winners and a number of alumni at various stages of their careers:
Alkemy-X–Justin Wineburgh '04
Anchor Worldwide–John Crenny
Buchwald & Associates–Pam Goldman '04
Fox Sports–Claudine Lilien '90
Forbes–Melanie Ruderman '14
The Rachael Ray Show–Jen Gsell '04
Highlights
Pam Goldman '04, director of animation, Buchwald & Associates
"So many of the students connected with me via LinkedIn. I am such a big proponent of Gateway as that's how I got my start at my company—17 years ago I had an externship and never left."
Government, Public Relations, and Research
This inaugural track in Washington, D.C., was focused on careers inside the beltway, public relations, government relations, legislation, communications, and corporate governance. Alumni from a broad spectrum of backgrounds helped students in understanding careers on The Hill, government/public agency, consulting firms, NGOs, and within corporations.
Host companies included A1.9 Strategies, Amazon, Center for Responsible Enterprise, Disney, Forbes Tate Partners, National LGBT Chamber of Commerce, Solidarity Center, and the U.S. Securities and Exchange Commission.
Host leaders included a number of alumni at various stages of their careers:
A1.9 Strategies–Michael Higdon '99
Amazon–John Stephenson '05
Center for Responsible Enterprise and Trade–Pamela Passman '83
Disney–Susan Fox '88
Forbes Tate Partners–Charnelle Pinkett '13
Hanover Research–Miriam Swartz '18
National Defense University–Ken Kligge '10
National LGBT Chamber of Commerce–Lauren Scheweppe
SEC–Joe Harden
Solidarity Center–Nalishha Mehta '98
U.S. Securities and Exchange Commission–Temeka Thompson
Highlights
This track had two Lafayette Board of Trustees members, Susan Fox and Pamela Passman, focus on "What a Career in D.C. Looks Like."
Michael Higdon '99, principal and founder, A1.9 Strategies
"As a first-time alumni host, my experience was extremely positive as I had the opportunity to virtually meet and engage a group of wildly talented students who are considering a career in public policy, advocacy, politics, and government. To no surprise, the Lafayette students were genuinely interested, full of poise, and asked great questions from how to start on Capitol Hill to navigating graduate school. The overall depth of interest encouraged me to facilitate a springtime alumni panel featuring a dozen successful alumni at various stages of their careers and across a broad spectrum of congressional offices, government, organizations, and private business employers. Between Career Tracks and the alumni panel, these student-alumni interactive events proved meaningful and rewarding."
Pamela Passman '83, corporate and philanthropic leader, Washington, D.C.
"I was excited when the Gateway Career Center approached me to be a part of their first-ever D.C.-focused Career Tracks. I appreciated the opportunity to share my experience and the various career paths I have seen available to students as they contemplate a first job or graduate school in Washington, D.C. The students were curious and engaged, and very interested in legal and policy careers that could take them to a government agency, Capitol Hill, think tanks or research organizations, law firms, public interest organizations, or businesses. Their thoughtful and rapid-fire questions kept the discussion lively, and we learned from one another. It was a pleasure to help students see paths to achieving a meaningful career in D.C."
Technology
Tracks included a cross section of smaller entrepreneurial startups to well-established companies with a focus into how technology is transforming business models and methods critical in developing new platforms for communication, service, products, and distribution. Alumni from Boston and NYC to the West Coast spanned a multitude of positions, and students heard perspectives from sales, marketing, public relations, innovation, engineering, and C-suite leadership.
Some companies included WorkRails, Reciprocal Ventures, Better, Mastercard, Splunk, Google, Toast, Microsoft, and Tesla.
Hosts:
NYC
Better–Chris Diamond '11 & Emanuel Santo-Donato '10
Google–Lisa Martinez '96
Mastercard–Plamena Georgieva '13
Reciprocal Venture–Craig Burel '10
Splunk–Rick Gilpin '95
WorkRails–Jamie Proctor '96
Boston
VI–Spencer Honeyman '12
Bungii–Peter Bain '12
Flywire–Laura Ladd '13 and Dan Ladd '13
ServiceNow–Ben Casey '08
Splunk–Andrew Horton '08
Toast–Randall Logan '14
West Coast
Google–Asela Gunawardana '96
Microsoft–George Armah '08
Tesla–Christopher "Barker" Carlock '17
Life Science
The Boston track was joined by an inaugural track in New York City. Topics in both locations included bio-pharma from a multitude of perspectives, including health care, health insurance, medical devices, health care consulting, and sales
Some companies included ThermoFisher, Stryker, Pfizer, and Bayer.
Host leaders included a number of alumni at various stages of their careers:
Bayer–Mark Murawski '93
Bayer–Scott Charvat '82
Blue Cross Blue Shield of MA–Molly Mazzaferro '06
Boehringer Ingelheim–Tim Skinski '83
Evidera–Tara Mayo '10
Olympus–Jacqueline Woodward '08
Pfizer–Tim Hylan '88
Stryker–Julia Wescott '17 and Melissa Lynskey '17
Suvoda–Megan Kaveney '15
Suvoda–Kara Rhodes '19
Suvoda–Courtney Blocker '17
Suvoda–Sonia Musso '20
Suvoda–Morgen Williard '20
Suvoda–Marc Lisi '08 (co-founder)
Suvoda–Abby Williams '15
ThermoFisher–Lauren Johnson '19
Highlights
Lauren Johnson '19, health systems clinical consultant, ImmunoDiagnostics, ThermoFisher Scientific
"This year's virtual approach allowed for more interactions than ever. Career Services did a phenomenal job at getting panelists who have different backgrounds within the same field. The panel was an open discussion, so students had an opportunity to ask us whatever they wanted in a relaxed and friendly environment. About three or four students expressed interest in my company after the event. I experienced firsthand how making these connections is so important for students. I attended the Boston Career Tracks my senior year and met another alumni, Tara Mayo '10, who introduced me to ThermoFisher and the new grad programs they had."
Mark Murawski '93, director, Contract Services, Bayer U.S. LLC
"It's important for me, personally, to give back to Lafayette. I've worked for three companies since I graduated, and each time I moved companies there was a Lafayette alum on the interview panel who ultimately had a large stake in the hiring process. Networking is key. An undergraduate experience is about discovering who you are and making positive connections in the world. I'm more interested in hiring someone who is well rounded, has great communication skills, willing to work hard, and is an avid learner over someone with a 4.0 that can't hold a conversation.
Timothy R. Hylan '88, lead, Internal Medicine, FMD Group and chair, Pfizer
"There has never been a more exciting time for a career in biopharmaceuticals. We are all living in a world where we want science to win (and fast!) and bring breakthroughs that change patients' lives to everyone sooner. We need to inspire the next generation of scientists and leaders to help chart the next innovation. I didn't realize how much interest there would be in terms of follow-up following our session, but within 24 hours after the session, I got more than 10 email inquiries from students asking for further advice, networking, and questions about my career."
Timothy Skinski '83, global director, Information Technology in Chromatography Services, Boehringer Ingelheim
"After providing an overview of a IT laboratory systems group in a pharmaceutical company, we had a very interactive discussion, which covered many different topic areas (technical, cultural, international collaboration, etc.). The virtual Zoom session enabled an international cross section of my team to participate. This would not have been possible in a traditional setting."
Abigail Williams '15, L&D program manager II: Onboarding, Suvoda LLC
"One of the students who attended graduated in December 2020 and was immediately able to interview for an associate project manager position. That candidate connected with a few of us after the event and before submitting an application. We've had at least one Lafayette alumnus/a join each year since 2015. That puts us at 11 Lafayette co-workers, including co-founders Rob Hummel '06 and Marc Lisi '08."
[Original Article URL: https://news.lafayette.edu/2021/03/27/career-exploration-in-a-virtual-world/]