Career Tracks provides behind-the-scenes look at specific industries, helps students network with alumni in Boston, New York City, Washington D.C., and the west coast.
By Stephen Wilson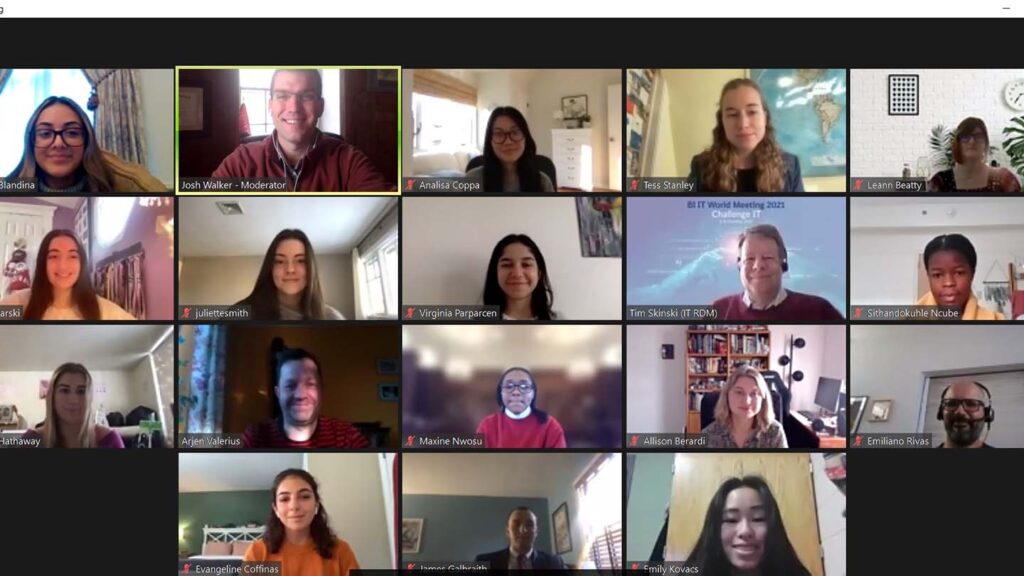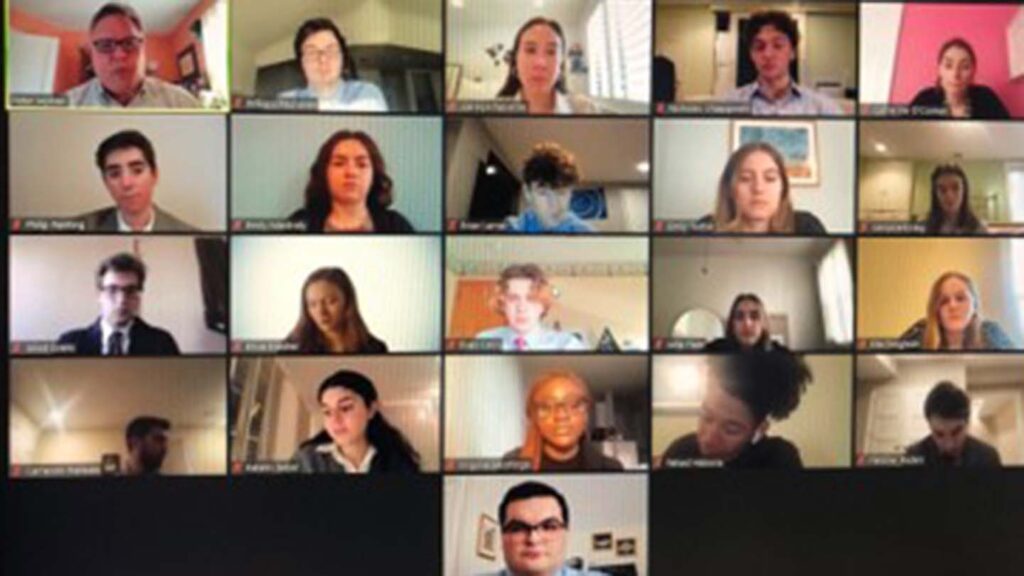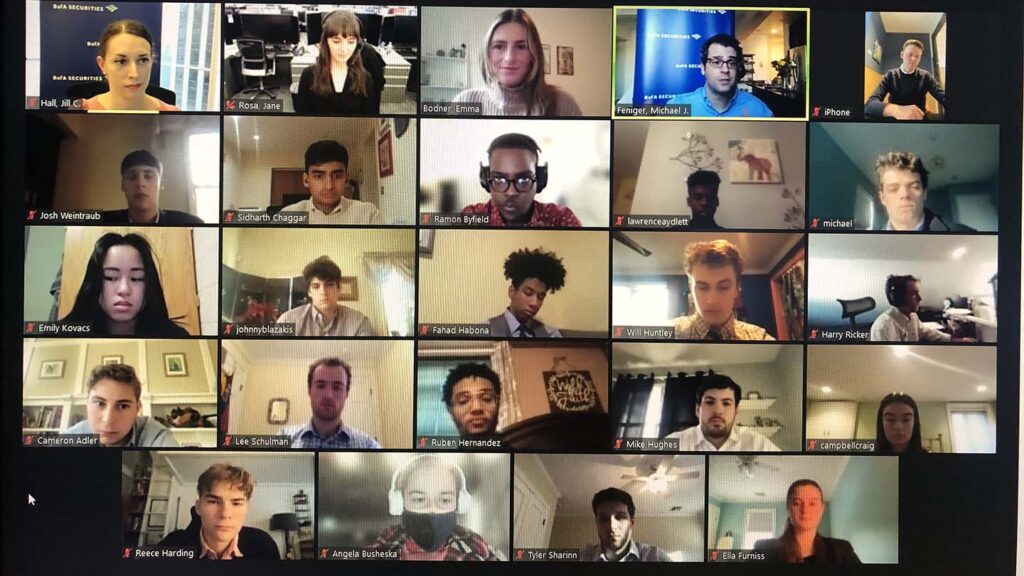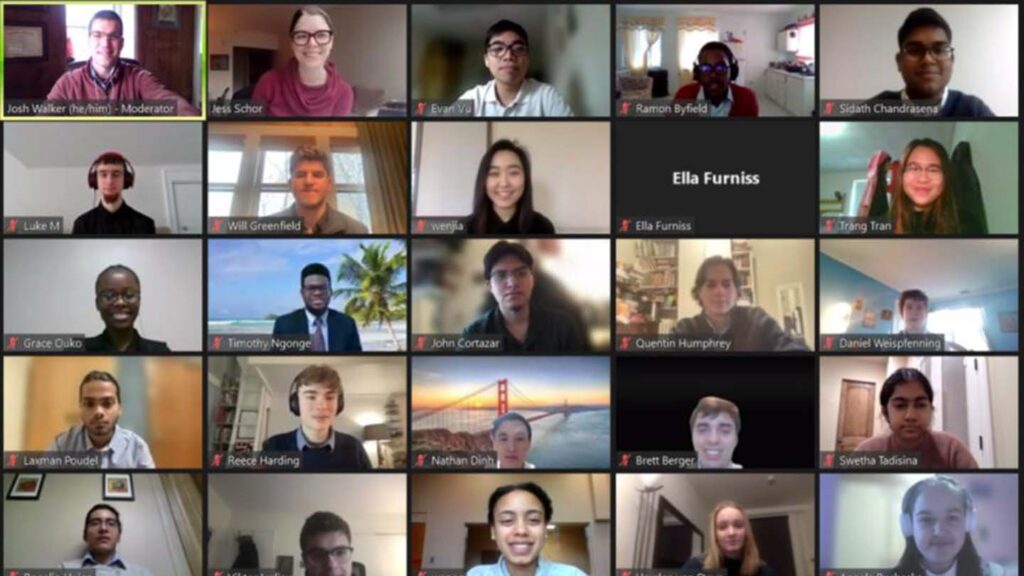 In January, alumni, parents, and friends of the College at 50 organizations across major cities and numerous industries, including NY Finance, Life Science, Media & Entertainment, and Tech; Boston Finance, Life Science, and Tech; Washington, D.C. Gov't & Law; and West Coast Tech, invited Lafayette students to take a virtual glimpse into their world through the Career Tracks program at Gateway Career Center.
Students had the opportunity to listen to hosts talk about their career paths, cities they call home, and their Lafayette experiences, while hosts could see the talented cohort of Lafayette students eager to build networks and explore career paths.
"This valuable behind-the-scenes look at specific industries helps students better understand how to steer their future success and build connections," says Mike Summers, associate vice president of Gateway Career Center.
Although exploring new cities has been a great perk of the program, the virtual nature of Career Tracks opens doors that regulations and restrictions have often kept closed.
"Students benefit greatly through meeting alumni who bring insight into what the career actually entails, as well as giving students advice related to the hard and soft skills that are needed to succeed," says Holly Akers, associate director of employer relations and outreach at Gateway Career Center. "I have been continually impressed by how our alumni bring enthusiasm and life to their careers while balancing the reality of what the career path entails and requires."
"Career Tracks is a program that allows Lafayette students and alumni to engage to discuss industry trends and their shared Lafayette experiences," says Josh Walker, associate director of employer relations and outreach at Gateway Career Center. "Moderating these engagements and seeing the collective enthusiasm for connecting has demonstrated why the Lafayette community is so special."
Here's what some hosts and participants have to say.
Life Science
Boston and New York City
Christina "Chris" Seckar '96, associate vice president, human resources, Merck
"I was attracted to the community at Lafayette. I learned a lot in my classes and activities, but I would argue that the way Lafayette best prepared me for my career is by helping me to grow as a human being, understand how to look critically at the world, see different perspectives, and build strong relationships to get things done. I had an externship my senior year at Lafayette and used the Lafayette network to do lots of informational interviewing as I tried to figure out what to do with my life post-graduation. I love staying connected with students and hearing about what's going on at Lafayette. While I don't claim to have all of the answers, I hope people can learn from my journey and that maybe I help students to think about something a bit differently. Realize that your first job will not be your last job—if you look at people a couple of steps ahead of you in the organization and you are invigorated by what they do, then you're probably on the right track. If, on the other hand, that isn't the case, you may want to explore other possibilities. Keep open hearts and minds, and make sure you are learning and growing throughout your career. Life begins at the end of your comfort zone, so be curious, take risks, and enjoy the ride!"
Dr. Rick Gontarek '89, senior director, head of business and scientific operations, oncology R&D, GlaxoSmithKline
"One day in early spring during my senior year of high school, I went to Lafayette. It was a beautiful day, and as I walked on the path around the Quad, I realized that I could totally picture myself at Lafayette. The rest is history! The classes I took in molecular biology, neurobiology, molecular genetics, and biochemistry helped prepare me academically for graduate school. A summer pre-med internship made me realize that I did not want to go to medical school. Prof. Wayne Leibel inspired me to pursue a career in research. I was fortunate to have access to internship opportunities that helped me to learn different lab techniques and allowed me to pursue my passion for research. Those opportunities were critical in helping me get into grad school. To prepare for an R&D career in pharma, I advised students to find opportunities to obtain relevant experience through hands-on lab courses, independent research, and summer internships. Some advice: Don't be deterred when you decide to change course in your studies or in your career; when one door closes, another one opens up."
Anabel Stein '24
"I am a biology major with an interest in nutrition and pursuing a dual degree in graduate school. I want to gain exposure to the different settings in the health care disciplines and chose the Boston life sciences career track because it was in a large city with large health care systems. This track had a wide range of career representation, and the experience was very informative because the alumni shared their thoughts on experiences that I am going through right now at Lafayette. Their advice assured me that I am on the right path, and they motivated me to reach out to a professor for research opportunities this coming summer."
Annie Hathaway '23
"Although I am currently on the pre-health professions track at Lafayette, I wanted to take advantage of the opportunity to learn more about the industry and other career paths as a neuroscience major. This experience was highly valuable for my career path as I learned a lot about different roles and even connected with other professionals via the hosts. The alumni I connected with so far have been extremely helpful and really care about helping Lafayette students be successful. I would encourage my peers to take advantage of opportunities like Career Tracks because you never know who you could meet and what opportunities that can arise from the experience."
Government, Communications, and Research
Washington, D.C.
John Stephenson '05, director, state policy, Rivian
"I was originally interested in computer science. As I was applying to colleges from high school, I got involved in politics. My then-newfound interest prompted me to switch fields. Among the colleges and universities I could have attended, Lafayette College was strong in both fields. My professors challenged me to think bigger in all aspects of my education. From topics for research to internships I applied for, I credit their encouragement to stretch myself when pursuing goals to much of the success I have had in turning policymaking into a successful career. My transition from student to professional was made possible with help from Lafayette College alumni who helped me find and successfully obtain work opportunities through leads, recommendations, and advice. I want to provide an even better experience and increase the odds of success for today's Lafayette students by sharing what I have learned along the way and leveraging my own resources to help students. Today's Lafayette students have a lot of opportunities ahead of them to find success, pursue happiness, and make the world a better place. My advice to them is to network with as many alumni as possible, ask every contact for at least two more contacts, and stay in touch with them throughout your career.
Stephen Konya '96, director of workforce planning, Securities and Exchange Commission
"Starting in kindergarten, I planned to attend Lafayette since my mother worked in the dean's office and my sister and I were on campus so often. When I did enroll, several professors (Bob Allen, Wendy Hill, and Andy Vinchur) really opened my eyes and provided opportunities and experiences in the classroom and labs that put me head and shoulders above others as I applied to graduate school. I was impressed with how bright and engaged the students were. It feels like they are getting an MBA-level education and have access to resources that are better than other colleges. I had Ross Coleman '22 who had an internship at the SEC, speak to students about what he worked on here. I hope students use us as alumni because we want to hear from them, reminisce about our days, and help provide advice, mentorship, and help with careers."
Nicholas Chiappinelli '23
"As a junior it can be difficult to navigate a certain profession. I knew this program would help me narrow my wide net of career interests, including psychology, organizational psychology, financial theory, and research. So I participated in three career tracks: Boston finance, Boston life science, and government. I think lots of the anxiety that goes into the job search is not knowing what job you want. It was very comforting to hear everyone talk about the anxiety of searching for a first job, especially coming from alumni with very prominent positions. The alumni gave us tips and tricks toward dealing with that anxiety as well as an opportunity to reach out whenever. Networking is such an important part of the application process, and luckily we have some fantastic alumni to do it with."
Financial Services
Boston
Kelly Henning '09, principal and wealth manager, Modera Wealth Management
"When I was on campus as a high school student, everyone held the doors for each other. It was that small gesture that made the place feel so welcoming. I had a Marquis Scholarship and participated in a January interim trip to Italy. During my junior year I was looking for an internship and met with an alumnus at Modera. I interned there in summer 2008 and started full time two weeks after graduation in 2009. I am now a lifer. There were nine employees when I started, and now there are 91 across eight locations. I felt like Lafayette did so much for me, and the alumni network was so important. I try to help in any way I can to jumpstart and make connections for students. It's important for them to have exposure to different types of firms and companies, learn more about the fiduciary world and jobs in wealth management, the different career paths, and what might be a good fit. Like investing, it is never too late to start by reaching out to alumni and making connections."
Quincy Miller '97, president, Eastern Bank
"I was recruited to play wide receiver at Lafayette. I managed the full-time job that was football alongside the academic rigor of my economics major. I held leadership roles on the team and the Brothers of Lafayette and established great rapport with many professors. I never had dreams of being a bank president—nobody intends to go into banking. I thought I wanted to be an accountant. But that's what's great about Lafayette—the liberal arts education allows you to learn across disciplines. Banking is incredibly diverse with retail, business, and wealth management. I was given leadership opportunities at a young age in my career. In fact, in every job I have held, I was the youngest in that role. But that happened for a reason. The most important person to manage your career is you; don't wait for someone to tap you on the shoulder. I have worked to be the best possible person in every job I've held and sought constructive feedback and advice from my managers along the way. It's your job to become the 'of course' candidate, not the 'maybe' candidate. Alumni at all levels are willing to share advice and share connections. So be proactive and reach out. Get close to Gateway—the staff, advice, and opportunities. Take time to connect and form relationships. At the right moment, it can make all the difference."
Angela Busheska '25
"I wanted to learn more about different career paths I can take that utilize my skills and passions, and met with Lafayette connections at Bloomberg, Citi, Morgan Stanley, and Goldman Sachs. As a computer science and engineering student, it broadened my spectrum of what's possible to use technology in the finance world, and alumni are the best source to tell me what it is like to make the college-to-work transition. Even virtual, we spent amazing days filled with valuable information and community building."
Technology and Innovation
West Coast
Barker Carlock '17, senior product manager, Tesla
"Through my search, Lafayette was one of the few places that would encourage the opportunity to explore both the liberal arts and engineering. After completing a Global Citizen Year fellowship in Senegal directly after high school, I became fascinated with the intersection between energy systems and moral and political philosophy. My time in West Africa exposed me to my many privileges growing up, especially when it came to basic infrastructure and technology, and seeded a passion in me to understand how we can better leverage and scale technology that improves people's lives and prioritizes the communities that need it most. At Lafayette, I had the latitude to explore multiple subjects intellectually while also making mistakes necessary for me to mature personally. I'm eternally grateful for all of the professors that put up with my shenanigans. I currently serve on the College's West Coast Advisory Council and am always amazed by how many Lafayette alumni are doing interesting work on the West Coast. I can't say it enough: Leverage the career services resources at your disposal to get connected to the alumni out here in the industry that you're interested in. There is no wrong path, only right ones, so go get experience and keep iterating to find the most right path for you."
Kavinda Udugama '09, senior program manager, Meta
"As an international student from Sri Lanka, Lafayette was a place where I could get a well-rounded education and pursue other interests. While there, I formed principles I could rely on and learned to solve engineering problems through project-based teamwork. I was more than a pure engineer; I learned how to manage human dynamics, how business worked, and where technology fits in. Participating in Career Tracks was a nice walk down memory lane to share what I had done at Lafayette and how the College prepared and transformed me. It was wonderful to see so many first-year students involved and engaged. It's important to experience as much as you can now in order to focus on the things you really enjoy as you prepare for internships. It is always good to educate yourself on the options and hear from those who were in your shoes, so you can be better equipped for the careers you want. Lean on the career center and know you can leave your snow jacket behind if headed to the Bay area."
Trang Tran '25
"I don't want to miss any opportunity as a first-year student and attended several tracks. I want to work at a finance company and liked hearing the hosts speak about the range of positions within their business. One host brought her entire team to the track, which really motivated me to expand my vision for what I could do. It is not common in my culture to reach out to strangers, but the alumni I met urged us to email them and connect on LinkedIn, and not to try and figure everything out on our own. I appreciate that."
Sidath Chandrasena '25
"I was interested in learning more about what people in the tech industry do in their jobs and how they got there. Many of the speakers held positions that were very different from their present roles. They mentioned that it was an important part of their career and helped them to realize what they didn't want in a role in the future. Some hosts discovered their interests or a secondary area that they would later pursue in their career paths from extracurriculars they participated in during college. In listening to them, it's clear the advantage of going to a liberal arts college like Lafayette are the transferable skills that are taught and found, which enable you to explore a wide variety of career paths after graduating, and utilize these skills."
Amira Figueroa Urrutia '25
"I registered for New York technology and innovation and Boston finance career tracks because I don't know what career path I want to follow, but knew these were fields I knew I was interested in. I asked the hosts what they did on their jobs and what their days looked like. It made me realize I like consulting. I cannot describe how valuable it was to me to be able to talk with the alumni of the College. They are wonderful people who gave me invaluable career advice."
Financial Services
New York
John C. Santos, Jr., '87 P'21 '23, managing director, Brown Brothers Harriman & Co.
"I have been involved in the Finance Career Track since its inception and look forward to hosting the students every year. Every year I am impressed by the degree of preparation they put into their visits. Although they are on their winter break, these students have done the work to get the most out of their experience. It's a mutually rewarding activity. We the alumni get to help Lafayette students by adding a little more exposure to the financial world, and, in return we get to be reminded about the quality of student, and prospective employee, that Lafayette is producing. It's this type of intimacy, in a small setting, with direct exposure to the students, that enables Lafayette to punch above its weight in preparing students to become professionals."
Jonthan Connor '88, founder and principal, Two Seas LLC
"After graduating with a degree in international affairs, I received a job offer from JPMorgan in a management training program, not really knowing the complexity of banking or financial services. I relied on my broad liberal arts education, which provided great analytical, reading, writing, and communicating skills. After a few years at JPMorgan, I earned an MBA from Columbia, and then spent 13 years at Citigroup in Bahrain, New York and Geneva, and another 14 years back at JPMorgan in New York and Geneva. In 2021, I formed Two Seas LLC to advise families from the Middle East with their offshore wealth management needs. I was happy to speak to students at Career Track. I sat in their shoes over 30 years ago and thought that providing some examples of my career journey might be helpful. A lot has changed since 1988, but being able to present yourself and advocate for your first role early in your career are important. I stressed studying what you like learning, not what you think will get you a job. You are always going to be good at something that you are passionate about."
[Original Article URL: https://news.lafayette.edu/2022/02/22/unique-career-program-helps-students-build-connections-explore-locations/]