In January, more than 300 students participated in Gateway's externship program and got a glimpse of life in a variety of workplaces.
By Stephen Wilson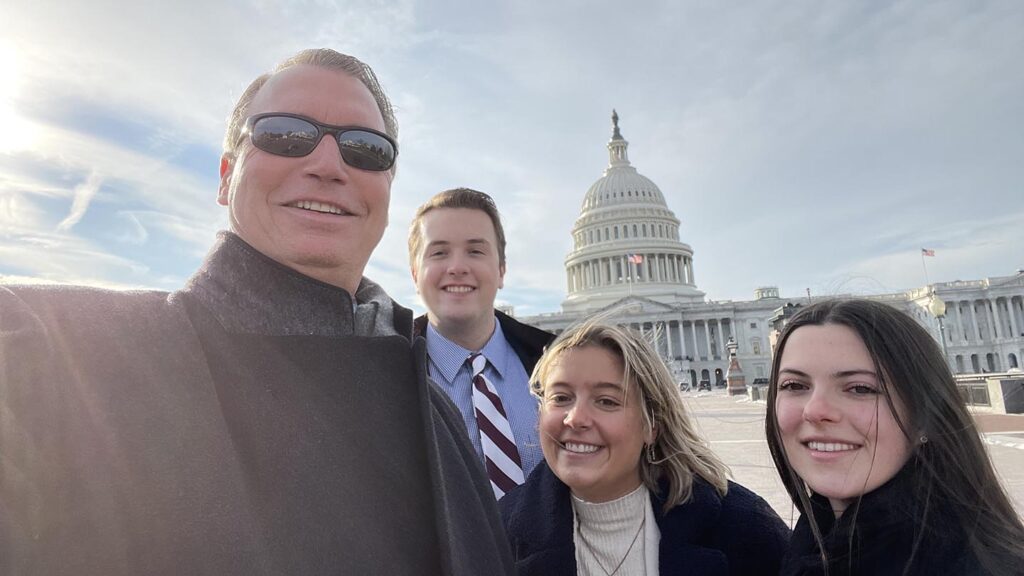 By Stephen Wilson
January may be a break for some students, but at Lafayette, the new year begins with adventures in industries across the country. Externships often become career-defining moments as students shadow alumni, parents, and friends of the College for two to five days and are immersed in a range of activities.
In 2022, over 300 students tried on a variety of careers thanks to the generosity of more than 150 hosts. While some experiences happened in person, many were virtual, but all gained considerable insight around their own career ambitions.
"We are grateful for the distinct generosity that our hosts share with students as they provide this unique, firsthand look into a career field," says Melissa Schultz, senior associate director of Gateway Career Center, who coordinates the program. "These short-term experiences help students to assess the fit and match of a particular career path, resulting in greater clarity around their professional interests, goals, and next steps."
Hear from some of the externs and hosts from locations both near and far from the College.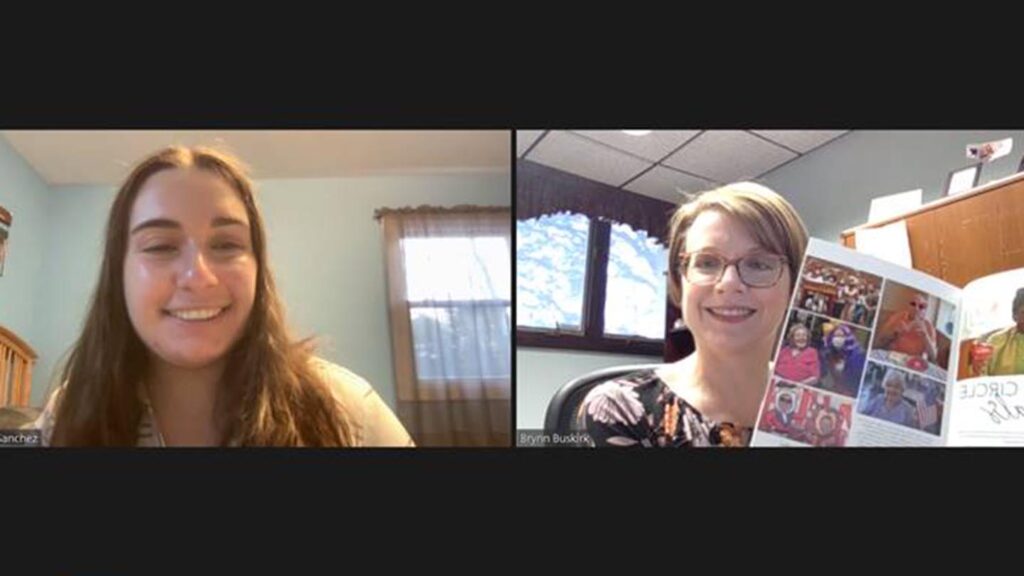 Phoebe Ministries
Nonprofit, multi-facility organization specializing in health care, housing, and support services for seniors
Allentown, Pa.
Host: Brynn Buskirk, vice president, marketing and external relations
Extern: Danielle Sanchez '22
Activities:
The extern met one on one with each member of the marketing team as well as with the executive director of Pathstones by Phoebe, executive director of philanthropy, director of wellness, and chaplain at Phoebe Berks. The student also attended a virtual Lehigh Valley Aging in Place networking luncheon and a Brainfood training meeting with the sales staff. Lastly, the student interviewed multiple employees and Phoebe residents to author a feature story for The Messenger, our lifestyle magazine.
Soundbites:
"The caliber of Lafayette students we've had is incredible, like take-your-breath-away incredible," says Buskirk. "Each of them has been articulate, responsible, intelligent, and overall just a great person. I began my career in higher education and love to work with students. I am grateful for the early success I had in my career due to some wonderful mentors I met through internships, so I want to give back to students in the same fashion."
"Phoebe does more than just support the residents; it also supports the support systems around the resident, which is something that is very near and dear to my heart," says Sanchez. "Having lived with my grandma my entire life and helped my mom take care of her as she battled dementia, it is so amazing to see all the services provided by Phoebe to help take care of older adults in all stages of their aging. This nonprofit is doing revolutionary things and bringing about sweeping change in the way older adults are taken care of and the communities in which they live. I was able to combine so many of my passions during this experience. It is beautiful to see a place where all my passions can come together, have a powerful impact, and fulfill my desires to do good."
New York City Economic Development Corporation (NYCEDC)
Works to make New York City's neighborhoods and economy stronger and more inclusive
New York City
Host: John Raymond '05, assistant vice president
Externs: David Carzis '23, Eve Gilbert '24
Activities:
On day one they had a remote introduction to NYCEDC's mission, the Real Estate Transactions Services team that Raymond leads, and the basics of commercial real estate and development. They also met several of Raymond's colleagues, who shared their career journeys and an interesting project they work on at EDC. On day two, they met in person and had an overview of NYCEDC's role in making Project Commodore (the soon-to-be second tallest building in NYC) and transit improvements to Grand Central. Raymond took them on a tour of the World Trade Center campus and explained the role of public-private partnerships in rebuilding the area after 9/11. They also attended a company-wide presentation on the personnel and policy priorities of the new City Council and Mayor Adams' administration. Lastly, they visited the new Essex Crossing development on the Lower East Side and toured the new Essex Market, an EDC-managed asset.
Soundbites:
"My trip to NYCEDC was a highlight of my winter break!" says Gilbert. "John had prepared a commercial real estate 101 PowerPoint for me and other Lafayette externs. Commercial real estate requires a person to both work behind a desk and also get out and explore potential building sites. I learned that I like this dual aspect of the work. I plan on potentially pursuing an internship in commercial real estate next summer, and John has offered to help me, which is very generous of him. I would definitely encourage students to apply for an externship."
"Real estate is such a unique field and not enough students are aware that it exists as a career option, so I am eager to provide an introduction," says Raymond. "It combines skills you learn in a liberal arts program with technical skills such as engineering and finance. Anyone can pursue a career in this field as long as you know how to think creatively, problem solve, ask questions, work collaboratively, and show initiative. I also want students to know that a field that has been traditionally seen as very entrepreneurial and profit-driven has a significant public policy component where the same skills needed to be successful in the private sector can be utilized for economic development goals."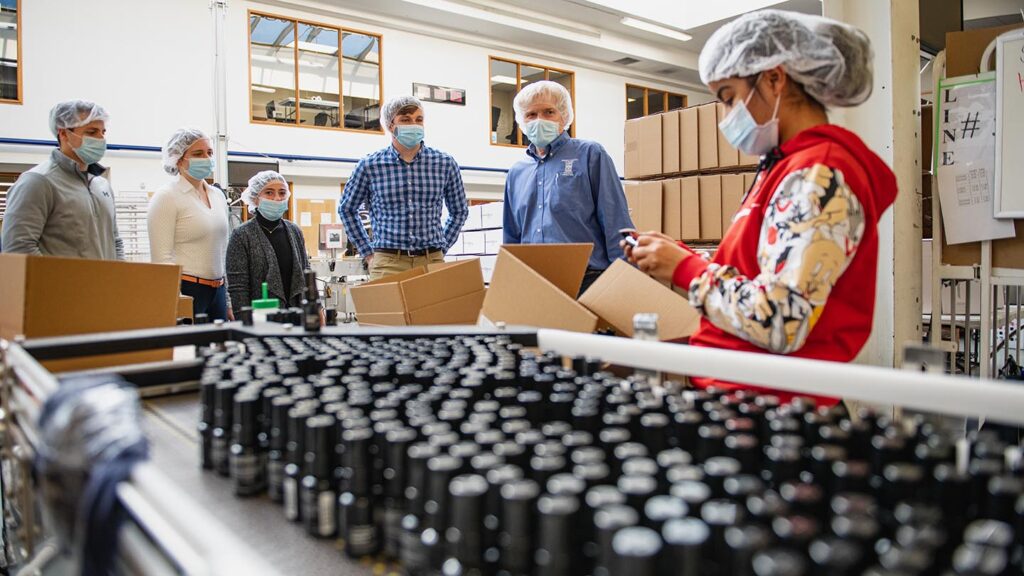 FMI (Fragrance Manufacturing Inc.)
Full-service contract manufacturing of prestige products in the personal care, home care, and perfume markets
Allentown, Pa.
Host: Kevin Rhodes '82, CEO and founder (along with two other Lafayette alumni)
Externs: Samuel Arnold '23, Rebekah Fodale '23, Danielle Lemisch '23
Activities:
FMI helps customers develop formulas, make products, bottle and package, and manage logistics and shipping to almost every country in the world.The students get a glimpse into all aspects of our business—from formulation to manufacturing to shipping to sales.
Soundbites:
"Our employees love to tell their stories—of the cool things they do and the products we make. It gives them a chance to do this while also helping the externs explore a career," says Rhodes. "On a very personal level, I have been given many opportunities in life that have contributed to my success. This includes being introduced firsthand to careers in manufacturing, which is what I love. Hosting externs allows me to give them a glimpse into manufacturing."
"I learned a lot about contract manufacturing, which I knew almost nothing about," says Arnold. "It is shocking how many large brands don't actually make their own products. Additionally, I learned a lot about what it is like to work at a small/medium manufacturing business and the challenges that come along with it. It is really cool to see a company like FMI that works so hard for their clients, is growth oriented, and has a great workplace culture."
"I met so many wonderful people and saw firsthand how FMI's core values play out in their work ethic," says Fodale. "One unique aspect of FMI is that they are extremely committed to building relationships with the customers, above cost or even efficiency. Doing what is right while still being professional is top priority. While I was there I learned how important relationships are in industry. It's not just about machines and maximizing profits."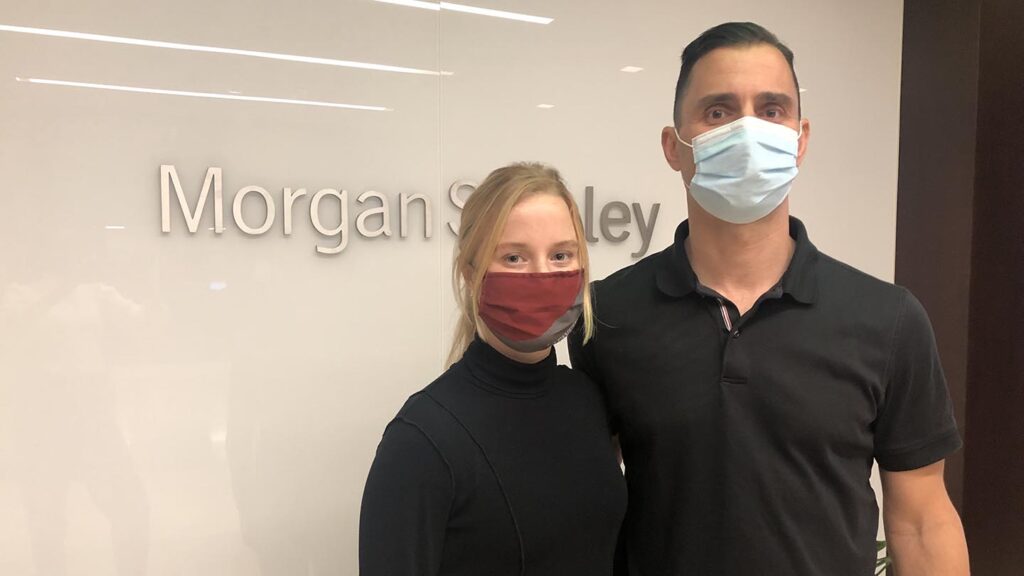 Morgan Stanley Wealth Management
Helping people, businesses, and institutions build, preserve, and manage wealth
Pasadena, Calif.
Host: Mark Suffredini '93, executive director
Extern: Abigail Lantz '23
Activities:
Suffredini provided an overview of the company's structure and the structure within the wealth management division. He also highlighted the corporate and local strategy, and discussed the future of the wealth management industry. The student also met with various professionals in the office, including members of the risk/compliance team, business service team, two financial advisers, and the business development manager, who shared their career stories and answered any questions.
Soundbites:
"It's a pleasure to give back to Lafayette and help guide undergraduates as they consider a career field after graduation," says Suffredini. "One of our core values at Morgan Stanley is 'Giving Back.' As the leader of the branch, it's important that my folks witness me volunteering my time through mentoring. The energy that students bring with them is infectious."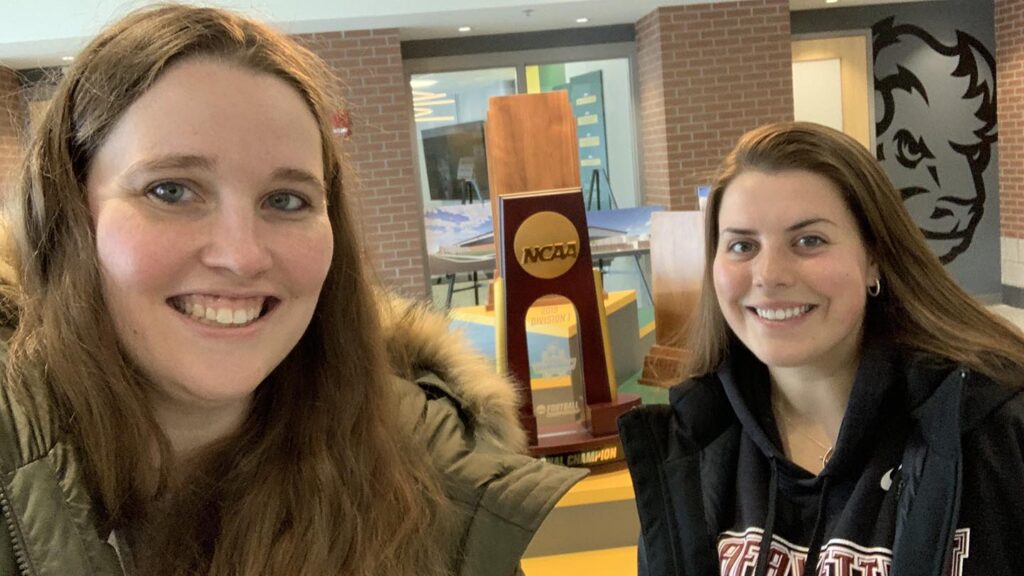 North Dakota State University
Department of Health, Nutrition, and Exercise Sciences
Fargo, N.D.
Host: Kelsey Slater '11, assistant professor
Extern: Julia Roman '23
Activities:
The student attended class with Slater as well as other sport management classes in addition to spending time with some of the full-time staff of North Dakota State athletics department to hear about the different job opportunities within a collegiate athletics setting. The student also received a full tour of the FargoDome, the home of the 2021 NCAA National Champion Bison Football team, and met with the football operations and player personnel staff about all the behind the scenes work that goes into Bison football. Lastly they attended a women's basketball game at Scheels Arena.
Soundbites:
"When I graduated from Lafayette I did not know what I wanted to do as a career, and I did not know that being a professor in sports management was even an option," says Slater. "Lafayette, like many colleges and universities across the U.S., does not have a dedicated sports management department, but Lafayette has a large student-athlete population that may have an interest in pursuing a career in the sports industry post-graduation. Plus I like to stay connected to Lafayette, and I think hosting undergraduate students and mentoring them as they begin to move into their future careers is a great way to keep that connection strong."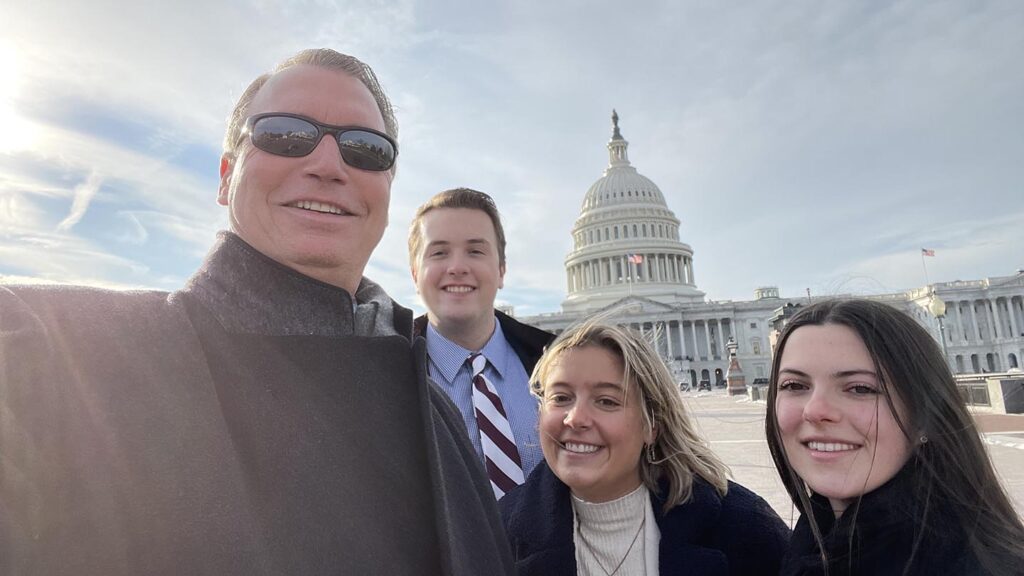 National Association for Behavioral Healthcare (NABH)
Committed to the treatment and care for children, adolescents, adults, and older adults with mental and substance use disorders
Washington, D.C.
Host: Shawn Coughlin '87, president and CEO
Externs: Maxine Blech '22, Caroline Burns '22, John Armstrong '23, Julia Arp '24
Activities:
Students reviewed issue priorities for the association, position papers, and other relevant documents and resources. They met with several members of the association leadership team and others in the D.C. policy arena, including staff from the Senate Finance Committee and leaders in the Health and Human Services Agency and House Energy and Commerce Committee. In addition to directly witnessing lobbying for the association, students were given the opportunity to discuss career options and paths with all the individuals they met to get a sense of the many varied career opportunities in the D.C. area.
Soundbites:
"As a former extern myself, the Lafayette externship program provided me with insight that led me to pursue a career in government relations," says Coughlin. "Hosting externs provides the opportunity to pay it forward with students researching career opportunities."
"Private associations such as NABH provide detailed information to members of Congress so that informed legislation can be passed," says Arp. "Many in Congress do not have in-depth knowledge on every topic, and NABH ensures that behavioral health is represented and members of Congress are well informed when making decisions having to do with related matters. I can see myself working on the Hill for an association similar to NABH because the work is impactful and fascinating! I am now looking into internships to spend my summer in D.C."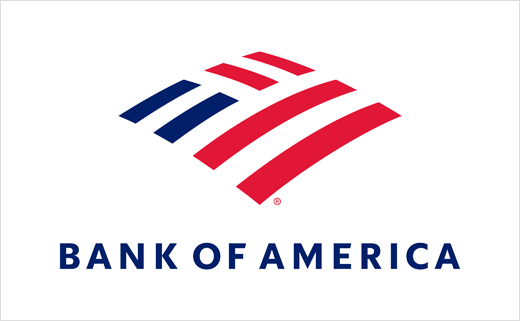 Bank of America
Multinational investment bank and financial services holding company
New York City
Host: Jane Rosa '18, associate (along with five other Lafayette alumni who met with externs)
Externs: Julia Daly '24, Elena Duffy '24, Aykut Ugurlar '24
Activities:
Externs were able to have one-on-one introductions and informal time to ask questions about internships, application process, and work culture with two recent alumnae. Following a quick tour of the trading floors, the students shadowed different alumni by rotating through four different areas of the bank, including research, rates trading, equity sales and trading, and futures and options.
Soundbites:
"We believe that hosting students is the best possible way to give them exposure to the world of sales and trading," says Rosa. "We all had the same opportunity as students, and that experience helped to shape our decisions over the coming years. While the subject matter of a job is important, we think that culture is equally as important. The teamwork, camaraderie, and excitement of the trading floor is one of the most appealing aspects of sales and trading and can help attract students who think they would thrive in this environment."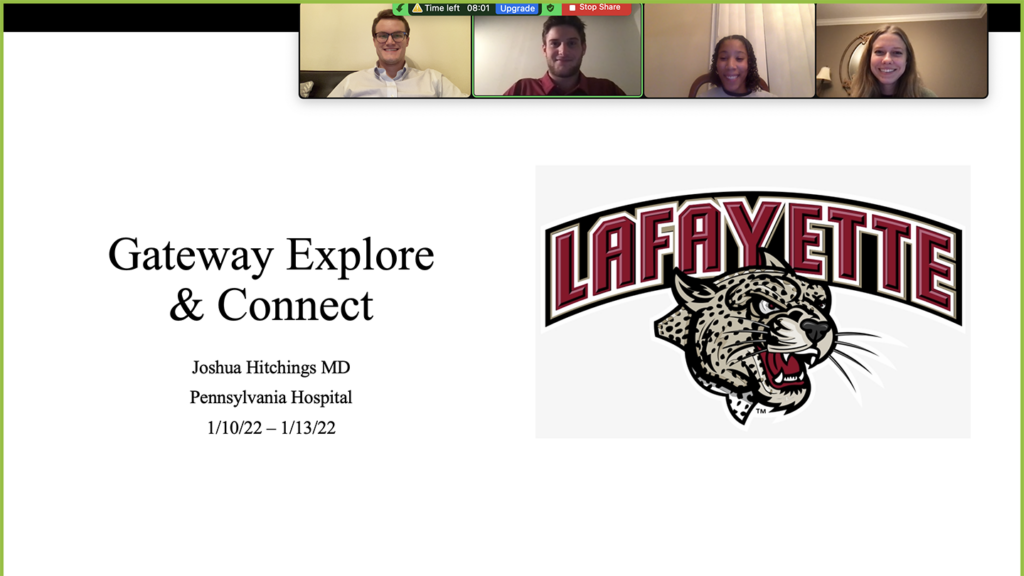 University of Pennsylvania Health System
Nationally ranked multi-hospital health system
Philadelphia, Pa.
Host: Joshua Hitchings, M.D.'14, third-year internal medicine resident
Externs: Cole Dutton '22, Madison Pompy '24, Makayla Schmid '23
Activities:
In nightly sessions, the students learned what steps to take at the College to prepare for a medical career, including classes, programs, research, and mentoring. They had an overview of medical school and residency; studied patient cases; discussed gathering patient history; reviewing vital signs, laboratory data, and diagnostic imaging; and formulated treatment plans. They took a virtual tour of the nation's first hospital and spoke with another resident who shared her education and career path.
Soundbites:
"The Lafayette externship program is truly unique amongst many undergraduate institutions through the Gateway Career Center," says Hitchings. "I am incredibly indebted to the many mentors, faculty, and colleagues I met across the College from the classroom to the pool who have shaped my professional career. It is important to stay grounded and maintain perspective on the journey that I've been on to this stage in my life. It provides great satisfaction to help inspire future Leopard graduates as they pursue careers in medicine and the allied health professions."
"This experience reaffirmed my desire to become a physician and attend medical school in the future," says Pompy. "I learned that the medical field can be stressful at times, but it is extremely rewarding. Dr. Hitchings was able to tell us about his journey and explained that it was never easy, but with hard work he believed that we all could be successful. I tend to underestimate myself and downplay my strengths. I will work on being more confident in my abilities to get into and be successful in medical school."
"I learned a lot about the medical field from this externship, including how different teams of health care professionals work together to take care of one patient," says Schmid. "I also learned how much time and work it takes to become a doctor, and how much passion and dedication the profession requires as well. I would highly recommend this program to any student aiming to go into the medical field after graduation who wants to gain some amazing insight from Lafayette alumni who are already in the field."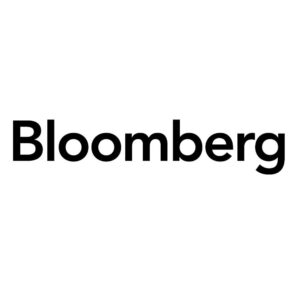 Bloomberg
A global financial data, analytics, news, and insights company
New York City
Host: Jackie Drago '18, sales account manager (along with 38 other Lafayette alumni)
Externs: Jack Evanko '24, Thomas Smith '24
Activities:
Students were able to learn about Bloomberg as a whole and meet with a variety of departments. In the beginning, they learned about the sales and analytics program at Bloomberg. They were able to shadow a typical day for us and ask questions about our role. Later on they met with two other colleagues in our research departments: Bloomberg Intelligence and Bloomberg New Energy Finance. Lastly, they met with one of our recruiters to hear more about opportunities and timelines to apply.
Soundbites:
"I am happy to share more about Bloomberg with the students and give them the opportunity to network with other alumni at our company. It is a great way to give back," says Drago.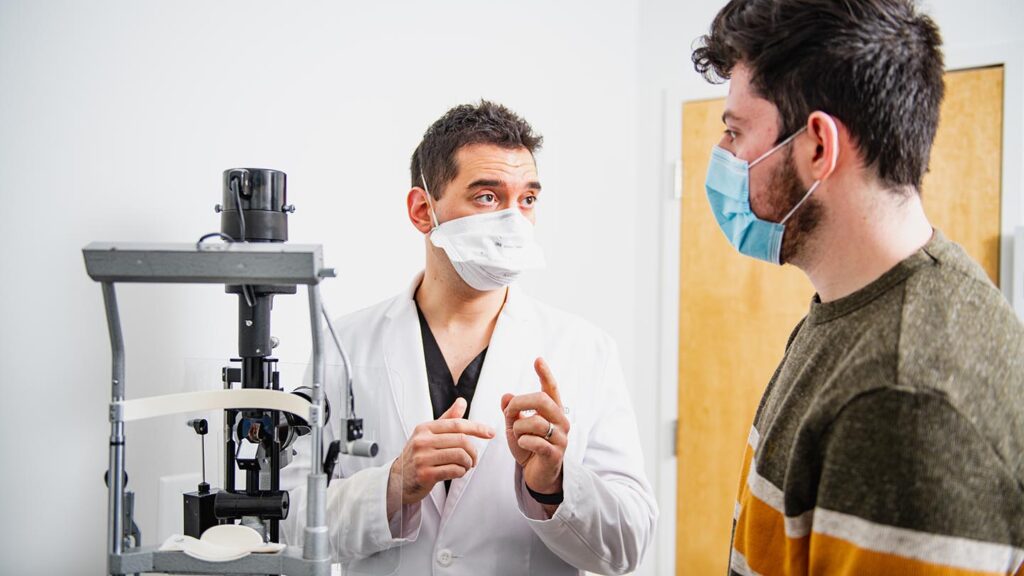 Abessi Eye Care and Surgery
A board-certified ophthalmologist and cornea specialist who also provides comprehensive eye care
Branchburg, N.J.
Hosts: Bryan Abessi, M.D. '07 and Karolina Janasek, M.D. '07
Extern: Zachery Cullen '22
Activities:
The student was able to observe routine eye exams as well as various eye emergencies. They discussed the normal anatomy of the eye, the issues that may occur with different eye pathologies, and the function of commonly used medications in the field. The student learned about the medical devices and equipment used by an ophthalmology office to evaluate patients.
Soundbites:
"My years at Lafayette College were a great experience and provided me with a great education," says Abessi. "I am happy to pay it forward for students interested in medicine to be able to get a glimpse of the medical field."
"Besides learning about the field of ophthalmology, I saw firsthand how continuity of care and connecting with patients was important in medical specialties like ophthalmology," says Cullen. "Seeing the close bond between Dr. Abessi and his patients allowed me to realize that I want to be able to form those same kinds of connections as I pursue a career in medicine."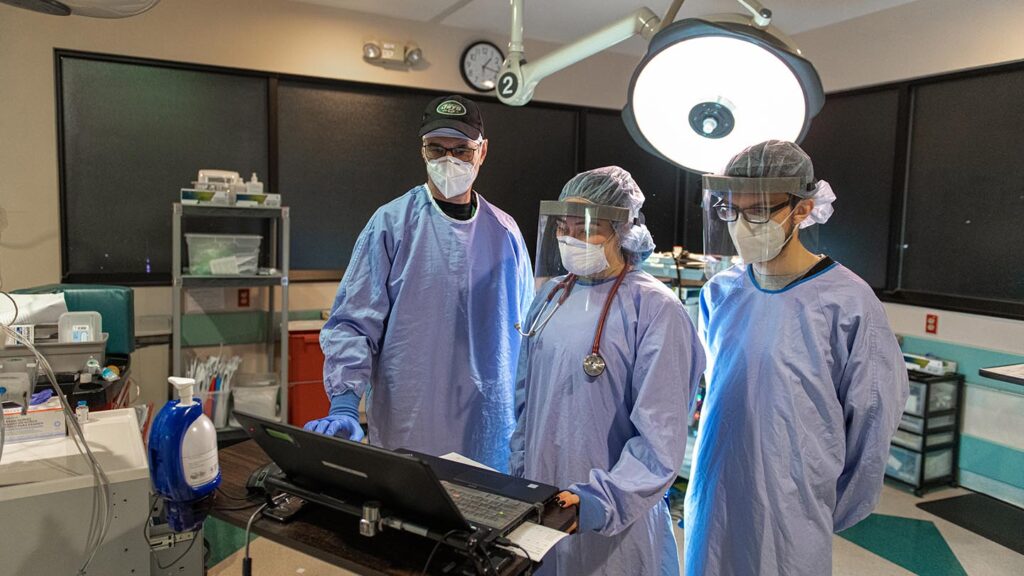 Gastroenterology Consultants
The premier gastroenterology group of Middlesex County
Edison, N.J.
Host: David Rosenheck, M.D. '79, chief of gastroenterology at JFK Medical Center
Extern: Sophia Mezzacappa '24
Activities:
Students observed patient visits, how to run a practice office, and procedures at the surgery center, including colonoscopies and endoscopies. Students also heard an honest description of what practicing medicine is like now and the path taken to get there.
Soundbites:
"To practice medicine now is a very difficult but honorable path, and although it is more exhausting than other more lucrative career paths, I am happy that students are still interested in an overwhelmingly rewarding profession," says Rosenheck. "I am also excited to meet students who may be a generation younger than me but still share important College ties."
"I learned a lot about medicine and the gastrointestinal system, specific diseases within the GI tract, and possible treatments," says Mezzacappa. "But aside from the more objective aspect of medicine, I also learned what it means to be a good doctor and how much you must sacrifice to get there."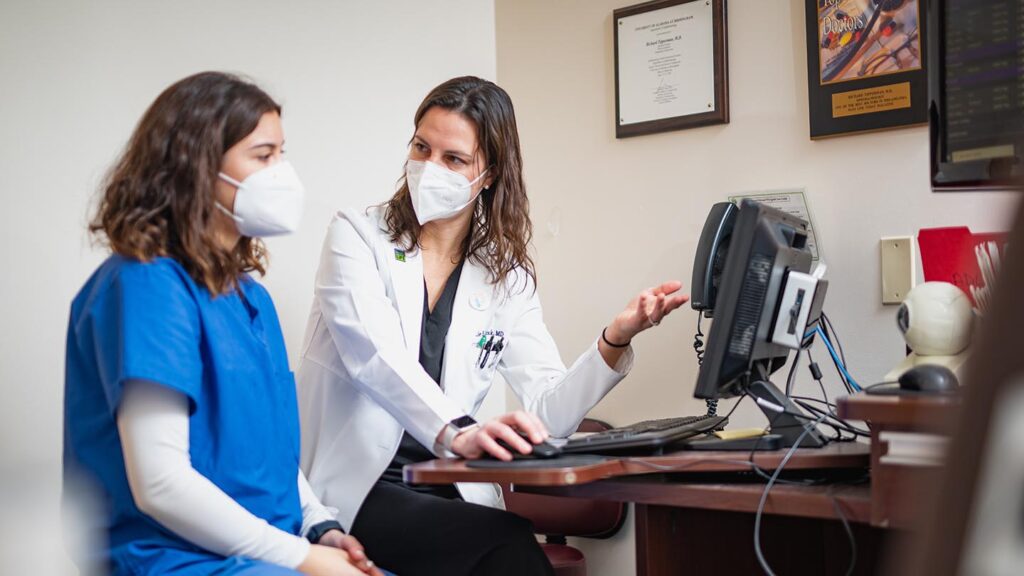 Ophthalmic Partners
12 physicians and optometrist with the most technically advanced eyecare
Bala Cynwyd, Pa.
Host: Katie Schrack, M.D. '03
Extern: Hope Durlofsky '22
Activities:
The extern traveled to multiple locations and observed everything from routine checkups to postoperative and preoperative visits. On day four, the student went to the surgery center to observe multiple cataract surgeries as well as a corneal transplant.
Soundbites:
"I still remember my Lafayette externship in general surgery with Dr. Michael Weinstein at Jefferson," says Schrack. "I ended up applying to and attending Jefferson for medical school because I had such a great experience. That's why it is important to be exposed to as many experiences as possible to determine one's passion. I would not have known I loved medicine if it weren't for past shadowing experiences."
"I took the biology course Anatomy of Vision in fall 2021 with Prof. James Dearworth, which helped me acquire a better understanding of the eye and the terminology regarding eye diseases prior to this externship. Seeing the information I had been studying during my externship was incredibly eye-opening," says Durlofsky. "I surprised myself with my interest in surgery. At first, I was very nervous knowing that one day of my externship was in the OR. When I got there and saw the first cataract surgery performed, I shocked myself by not feeling the discomfort that I was expecting."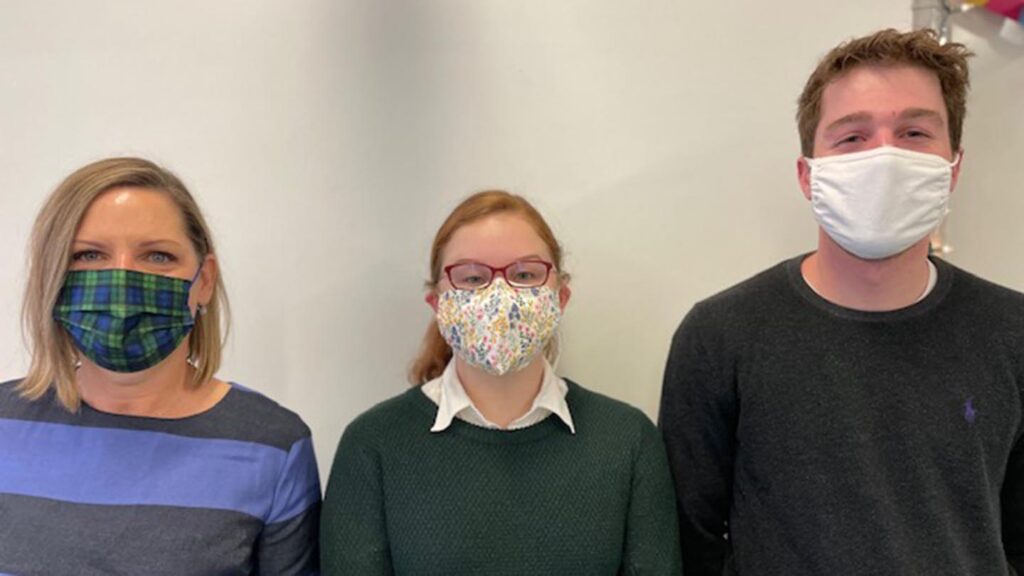 Lloyd Road Elementary School
Fourth and Fifth grade school in Matawan Aberdeen Regional School District
Aberdeen, N.J.
Host: Jennifer Bauer P'25, occupational therapist
Externs: Isabelle Giorgis '24, Evan Fudala '23
Activities:
Students read materials to support their understanding of what an occupational therapist (OT) does, what the OT's role is in a school setting, and the types of intervention strategies they may encounter. They observed back to back half-hour OT sessions (both group and individual) with students with a variety of developmental disabilities. They learned about special education guidelines, documentation practices, the administration of a standardized evaluation tool, and writing measurable, functional goals.
Soundbites:
"I remember as a college student feeling limited to the 'big' jobs in finance or as a doctor or lawyer. Young people don't know the many options available to them unless they seek them out and meet with people willing to help along the way," says Bauer. "Occupational Therapy is one of the more obscure, less understood medical professions, yet it is an essential one. I seek out opportunities to work with young people who are excited about learning and in the beginning stages of building a career they are passionate about."
" I am interested in a health care career, so this experience showed me another option I hadn't considered much," says Giorgis. "Seeing how Ms. Bauer worked with the students has really opened my eyes to the issue of accessibility and showed how important intervention like OT is to help students with different needs succeed in school and beyond. Even if I don't end up as an occupational therapist, the skills and knowledge I gained from this experience will be valuable in any health care field."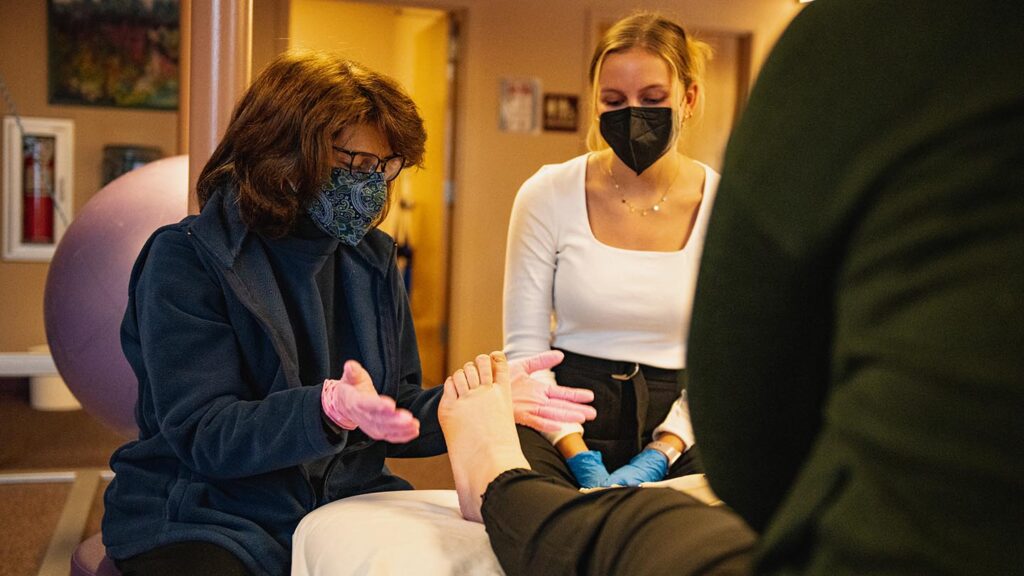 Laurie Samet Physical Therapy
Providing the very best in orthopedic, sport, spine, and manual physical therapy since 1995
East Stroudsburg, Pa.
Host: Laurie Samet '79, physical therapist and owner
Externs: Libby Mayer '22, Katharine Chiasson '23
Activities:
Over the course of a week, students get to observe new and existing patient evaluations and treatment sessions, and, when appropriate, do a little "hands-on" work. The students shadow as if they were already enrolled in physical therapy school and on a clinical rotation in order to demonstrate what can be a complex and nuanced clinical reasoning process. They also get a glimpse into the administrative side of running a private physical therapy practice from scheduling, dealing with health insurance companies, and small things like cleaning beds and doing laundry.
Soundbites:
"It was really interesting to hear Laurie's various experiences in her career, especially being a woman in a traditionally male-dominated field when she was in school and for many years of her career," says Mayer. "The scope of running a private practice is extremely meticulous ,and there are so many things that Laurie coordinates beyond practicing physical therapy. I really enjoyed being able to connect with patients as they were doing their exercises and hearing about the progress they have made since starting physical therapy. I also enjoyed learning about human anatomy in a more practical and hands-on way. Laurie's passion for physical therapy and her school spirit were unmistakable!"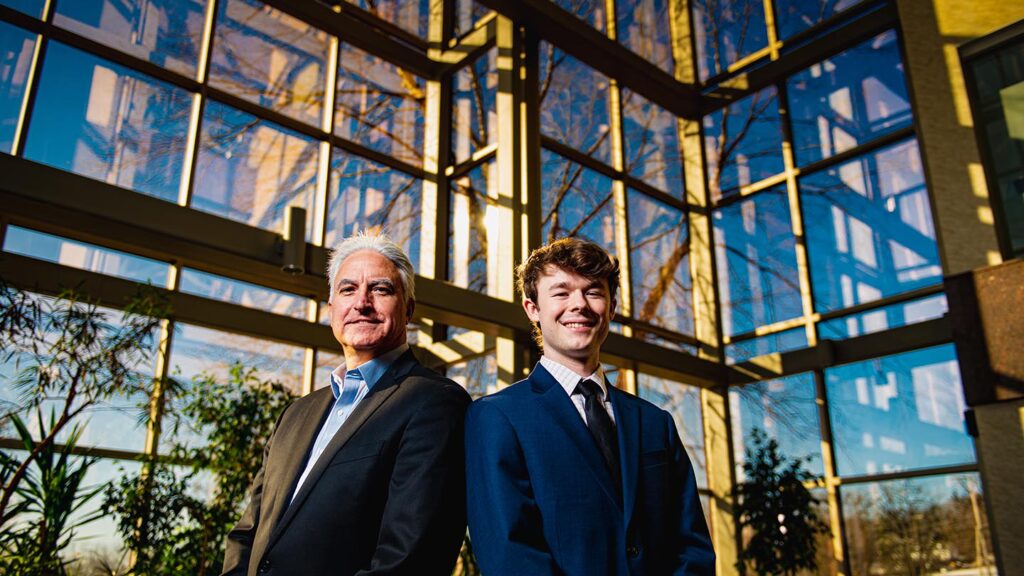 One Financial Services
Offers financial strategies and advice delivered through personalized care and attention
Allentown, Pa.
Host: Jack Morrone P'14, principal and co-founder
Extern: Jacob Porter '23
Activities:
Extern got to see the daily workings, including the team's morning Zoom call, client meetings, a business meeting with a technology company, and a Miracle League meeting because the company is a sponsor. The student also shadowed several employees and learned about how the roles each of them play come together to build all of the information needed for periodic reviews with clients.
Soundbites:
"We enjoy the opportunity to give college students visibility into the inner workings of a financial office," says Morrone. "It also provides our office with contact with this current generation and future professionals. We enjoy the opportunity to mentor and provide insight into our industry for local college students."
"One Financial Services works to give their clients the comfort of knowing their money is being well managed by real people whom they can get to know," says Porter. "The clients have a very high level of trust in the team, which explains why they have an extremely high level of client retention, an unusual case for the industry. It was truly amazing to see how each little piece comes together to build an efficient and comforting experience for the clients."
[Original Article URL: https://news.lafayette.edu/2022/02/09/students-explore-careers-through-job-shadow-program/]